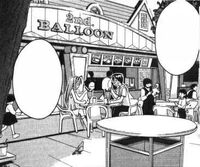 The 2nd Balloon Cafe is an ice cream cafe that Keitaro Urashima takes Naru Narusegawa to on their date. While eating ice cream however the pair are interrupted by Motoko and Kaolla, who whitness Naru's flirting.
Later on, Mecha Keitaro returns here when a programming glitch causes it to reenact the date between Naru and Keitaro.

Location Design
Edit
The 2nd Balloon Cafe is based on an actual store in Bunkyo Ward, Tokyo.

In the Love Hina anime, Naru and Keitaro go on a date while she is awol from her pop star career. They visit a cafe called the 3rd Balloon Cafe, which is much like the 2nd Balloon Cafe in appearance.
Ad blocker interference detected!
Wikia is a free-to-use site that makes money from advertising. We have a modified experience for viewers using ad blockers

Wikia is not accessible if you've made further modifications. Remove the custom ad blocker rule(s) and the page will load as expected.