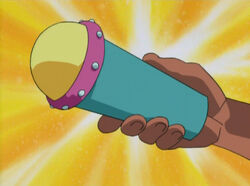 The All Seeing Light, also called the X-rated X-ray Light in the Tokyopop translation of the manga, is a small, handheld torch capable of shining a beam of light that penetrates clothing; revealing whatever is hidden underneath.
In Chapter 95 of the manga and the Love Hina Again OVA, Su uses this device to reveal Kanako in her various disguises.

Ad blocker interference detected!
Wikia is a free-to-use site that makes money from advertising. We have a modified experience for viewers using ad blockers

Wikia is not accessible if you've made further modifications. Remove the custom ad blocker rule(s) and the page will load as expected.