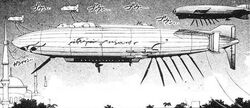 The Amallan Kaollan is a large Molmol airship. Designated the flagship of the Kingdom of Molmol, Kaolla uses it, along with the Royal Air Force's third mobile fleet, to chase Seta and travel across her kingdom to the Todai Ruins (Ch.111).
Considerably larger than most of the other airships in the fleet, the Amallan Kaollan possesses a large assortment of artillary guns as well as various interal chambers, including a large bedroom for royalty and a multipurpose reception area for "guests".
Ad blocker interference detected!
Wikia is a free-to-use site that makes money from advertising. We have a modified experience for viewers using ad blockers

Wikia is not accessible if you've made further modifications. Remove the custom ad blocker rule(s) and the page will load as expected.