Ad blocker interference detected!
Wikia is a free-to-use site that makes money from advertising. We have a modified experience for viewers using ad blockers

Wikia is not accessible if you've made further modifications. Remove the custom ad blocker rule(s) and the page will load as expected.
"Ohmigod! If I don't clean up this article soon, they're gonna kill me!!!"

This article can be improved in areas such as grammar, style, wiki-formatting and even spelling.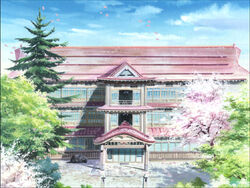 Cherry Blossoms Blooming (Sakura Saku) is the opening theme to the Love Hina anime series. The song is written by Ritsuko Okazaki.
Sung by multiple seiyuus/characters through the series, the song is depicted as a lullaby that Haruka Urashima once sang.

Seiyuus: Megumi Hayashibara
Original / Romaji Lyrics

yane no ue de sora o aogu, hizashi wa uraraka
miageru sora, karadajuu genki ga minagitteku


THAT'S SO WONDERFUL! ikiterunda!
yamerarenai, akirameru da nante


tohou ni kureta kinou ni sayonara
futsufutsu to wakiagaru kono kimochi
nando demo yomigaeru, hana o sakaseyou
omoide wa itsu mo amai nige basho
dakedo tachi kire, asu o ikiru tame
shukufuku no toki wa kuru, te o nobashite


uruwashi no yawaraka na hada, imada te wa todokazu
me o tojireba fukuramu IMEEJI, miwaku no kajitsu

THAT'S SO WONDERFUL! ikiterunda!
yamerarenai, sono saki o mitai

dotou no hibi wa tsuzuku, doko made mo
tengoku to jigoku, yukitsu modoritsu
nando demo yomigaeru, hana o sakaseyou
hashire hashire, ai o te ni suru made
sore de kurushimu nara nozomu tokoro
shukufuku no toki ga kuru, te o nobashite

tohou ni kureta kinou ni sayonara
futsufutsu to wakiagaru kono kimochi
nando demo yomigaeru, hana o sakaseyou
omoide wa itsu mo amai nige basho
dakedo tachi kire, asu o ikiru tame
shukufuku no toki wa kuru, te o nobashite

te o nobashite, ryoute agete

English Translation

On the roof looking up at the sky, the sunlight is beautiful
Looking up to the sky, my whole body fills with energy


That's so wonderful! Just being alive!
Let's never stop or give up

Say goodbye to the confusion of yesterday
These feelings are bubbling up and boiling over
No matter how many times they come back, these flowers will bloom
Memories are always a sweet place to retreat
But if you break from them, you can live for tomorrow
A blessed time has arrived, so reach out your hands

This lovely and gentle skin, these hands have not yet reached
If I close my eyes this image expands, a fascinating seed

That's so wonderful! Just being alive!
Let's never stop, I want to see how it was before

Hectic days continue, anywhere
Going back and forth between heaven and hell
No matter how many times they come back, these flowers will bloom
Run, run until you hold love in your hands
And then if you're worried, make a wish
A blessed time has arrived, so reach out your hands

Say goodbye to the confusion of yesterday
These feelings are bubbling up and boiling over
No matter how many times they come back, these flowers will bloom
Memories are always a sweet place to retreat
But if you break from them, you can live for tomorrow
A blessed time has arrived, so reach out your hands

Reach out your hands, lift up both hands
Musical Ver
Edit
Seiyuus: Yuuji Ueda, Yui Horie, and Satsuki Yukino
Original / Romaji Lyrics

Keitaro: yane no ue de sora o aogu, hizashi wa uraraka
Mutsumi: miageru sora, karadajuu genki ga minagitteku

Naru: THAT'S SO WONDERFUL! ikiterunda!
All: yamerarenai, akirameru da nante

Naru: tohou ni kureta kinou ni sayonara
Mutsumi: futsufutsu to wakiagaru kono kimochi
Keitaro: nando demo yomigaeru, hana o sakaseyou
Mutsumi: omoide wa itsu mo amai nige basho
Naru: dakedo tachi kire, asu o ikiru tame
Keitaro: shukufuku no toki wa kuru, te o nobashite

Mutsumi, Naru: te o nobashite
All: ryoute agete

Keitaro: uruwashi no yawaraka na hada, imada te wa todokazu
Mutsumi, Naru: me o tojireba fukuramu IMEEJI, miwaku no kajitsu

All: THAT'S SO WONDERFUL! ikiterunda!
All: yamerarenai, sono saki o mitai

Keitaro, Naru: dotou no hibi wa tsuzuku, doko made mo
Mutsumi, Keitaro: tengoku to jigoku, yukitsu modoritsu
Mutsumi, Naru: nando demo yomigaeru, hana o sakaseyou
Keitaro, Naru: hashire hashire, ai o te ni suru made
Mutsumi, Keitaro: sore de kurushimu nara nozomu tokoro
All: shukufuku no toki ga kuru, te o nobashite

All: tohou ni kureta kinou ni sayonara
All: futsufutsu to wakiagaru kono kimochi
All: nando demo yomigaeru, hana o sakaseyou
All: omoide wa itsu mo amai nige basho
All: dakedo tachi kire, asu o ikiru tame
All: shukufuku no toki wa kuru, te o nobashite

All: te o nobashite, ryoute agete

English Translation

Keitaro: On the roof looking up at the sky, the sunlight is beautiful
Mutsumi: Looking up to the sky, my whole body fills with energy

Naru: That's so wonderful! Just being alive!
All: Let's never stop or give up

Naru: Say goodbye to the confusion of yesterday
Mutsumi: These feelings are bubbling up and boiling over
Keitaro: No matter how many times they come back, these flowers will bloom
Mutsumi: Memories are always a sweet place to retreat
Naru: But if you break from them, you can live for tomorrow
Keitaro: A blessed time has arrived, so reach out your hands

Mutsumi, Naru: Reach out your hands
All: lift up both hands

Keitaro: This lovely and gentle skin, these hands have not yet reached
Mutsumi, Naru: If I close my eyes this image expands, a fascinating seed

All: That's so wonderful! Just being alive!
All: Let's never stop, I want to see how it was before

Keitaro, Naru: Hectic days continue, anywhere
Mutsumi, Keitaro: Going back and forth between heaven and hell
Mutsumi, Naru: No matter how many times they come back, these flowers will bloom
Keitaro, Naru: Run, run until you hold love in your hands
Mutsumi, Keitaro: And then if you're worried, make a wish
All: A blessed time has arrived, so reach out your hands

All: Say goodbye to the confusion of yesterday
All: These feelings are bubbling up and boiling over
All: No matter how many times they come back, these flowers will bloom
All: Memories are always a sweet place to retreat
All: But if you break from them, you can live for tomorrow
All: A blessed time has arrived, so reach out your hands

All: Reach out your hands, lift up both hands
Lullaby Ver (Episode 18)
Edit