Ad blocker interference detected!
Wikia is a free-to-use site that makes money from advertising. We have a modified experience for viewers using ad blockers

Wikia is not accessible if you've made further modifications. Remove the custom ad blocker rule(s) and the page will load as expected.
"Ohmigod! If I don't clean up this article soon, they're gonna kill me!!!"

This article can be improved in areas such as grammar, style, wiki-formatting and even spelling.
"What is a Energetic Tomboys? Is it tasty?"

This article may need a few pictures. Perhaps you can help by uploading an image, scan or screenshot.
Energetic Tomboys (BARIBARI Otenba) is a vocal compilation performed by seiyuu Hayashibara Megumi.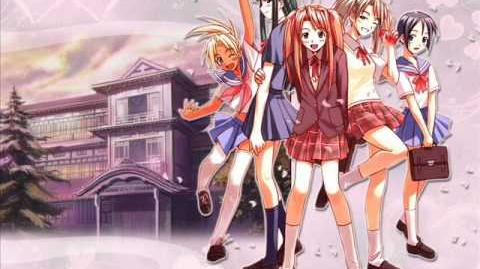 Original / Romaji Lyrics

Gochonai no minna-san konya wa o-matsuri yo katte ni yagura gunjatta
Wataame ni CHOKO BANANA YOOYOO mo sitai shi
Nihon no kokoro aziwaimasho

Oten BARIBARI jinsei kowai mon nashi
WASSHOI! "WASSHOI!"
Tanoshii koto wa zenbu tsumani kuishou

HAME hazushite issho ni sawagimasho negai wa sekai heewa

Nezirihachimaki de sarashi chotto SEKUSHII inasena bishoujo sanjou
Shateki nara makasete yo nichou kenjuu SEEBU no kaze ga arashi wo yobu

Tatta mon kachi jinsei nenjuumukyuu
WASSHOI! "WASSHOI!"
Chuutohanpa shitetara KABI ga haeru wa

wakai uchi ni bouken atashira no genki wa tenkamuteki

oten BARIBARI jinsei kowai mon nashi
WASSHOI "WASSHOI!"
Siraretara waratte gomakaseba ii
Rekishi wa ima koko de ugokidasu mezasu wa sekai seeha

English Translation

Everybody in the neighborhood Tonight's a festival We conveniently set up a stage Cotton candy, chocolate banana, I want to do the yo-yo, too Let's taste the heart of Japan

The life of an energetic tomboy is nothing to be afraid of Heave-ho! "Heave-ho!" Let's sample everything that is fun

Let's be merry and boisterous Our wish is for world peace

A twisted headband and bleached cotton are a bit sexy. A dashing and beautiful girl is here! If it's target practice, leave it to me! Double pistols The wind from the west brings a storm

For those who try win in the life without a holiday Heave-ho! "Heave-ho!" If we get scolded, it's okay to fake it with a smile History is moving here We aim for world domination