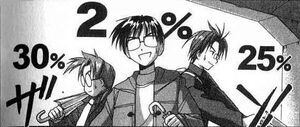 The Four Eyed Freakfest is a nickname that Naru Narusegawa gave to the trio of Keitaro Urashima, Masayuki Haitani and Kimiaki Shirai (as they all wore glasses) when they boarded together at the beach during summer vacation.
Ad blocker interference detected!
Wikia is a free-to-use site that makes money from advertising. We have a modified experience for viewers using ad blockers

Wikia is not accessible if you've made further modifications. Remove the custom ad blocker rule(s) and the page will load as expected.