Ad blocker interference detected!
Wikia is a free-to-use site that makes money from advertising. We have a modified experience for viewers using ad blockers

Wikia is not accessible if you've made further modifications. Remove the custom ad blocker rule(s) and the page will load as expected.
"Ohmigod! If I don't clean up this article soon, they're gonna kill me!!!"

This article can be improved in areas such as grammar, style, wiki-formatting and even spelling.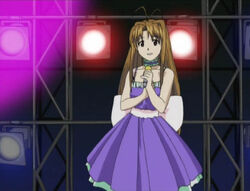 Future of Smiling Faces (Egao no Mirai e) is a vocal compilation performed by seiyuu Horie Yui.
The song is presented as one of the songs Naru Narusegawa sings during her career as a Pop Idol.
Original / Romaji Lyrics

ashita e mukau jikan ni makenai you ni
kaze o kitte kakedasou yo motto
kokoro no kui no nokoranai mainichi o okuri nagara
ganbatteru kimi ni ageru egao no mirai o ...

SUMOOKII na jibun no michi okoru okoru aruita
mayotte, tsumazuite,
doro darake no mune no itami naki nagara haratta ne
kuchibiru, kamishimete
genjitsu wa kanari kibishii kedo
koko made kita atsui yume no inochi tayasanai de

ashita e mukau jikan ni makenai you ni
kaze o kitte kakedasou yo motto
ikutsu mono kizu o seotte sore demo chiisana hane o
tabatakasete oozora e to mezasu kimi ga suki

koi o shitari, KENKA shitari sawagidasu kanjou wa
kokoro no takaramono
setsunasa to ka, itoshisa to ka hajimete fureru kimochi
tomadoi shitte yuku
genjitsu wa kanari otona dakedo
kinou yori mo atsuku nareru inochi nakusanaide

English Translation