Ad blocker interference detected!
Wikia is a free-to-use site that makes money from advertising. We have a modified experience for viewers using ad blockers

Wikia is not accessible if you've made further modifications. Remove the custom ad blocker rule(s) and the page will load as expected.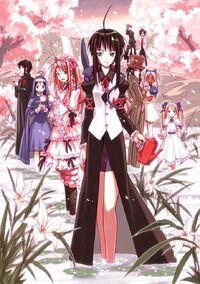 Gothic Lolita fashion is a fashion subculture originating in Japan that is primarily influenced by Victorian clothing as well as costumes from the Rococo period. The Lolita look consists primarily of a knee length skirt or dress, headdress, blouse, petticoat, knee high socks or stockings and rocking horse or high heel/platform shoes, although Lolita fashion has evolved into several different sub styles.

Although the origin of Lolita fashion is unclear, it is likely the movement started in the late 1970s when famous labels including Pink House, Milk and Angelic Pretty began selling clothes that would be considered "Lolita" by today's standards. Shortly after that came Baby, The Stars Shine Bright, and Metamorphose temps de fille. In the 1990s, Lolita fashion became better recognized, with bands like Malice Mizer and other Visual Kei bands coming into popularity. These bands wore intricate costumes, which fans began adopting as their own style. The style soon spread from its origins in the Kansai region, and ultimately reached Tokyo where it became popularized throughout Japanese youth culture.
Classic Lolita
Edit
Classic Lolita is a more mature style of Lolita that focuses on Baroque, Regency, and Rococo styles. Colors and patterns used in classic Lolita can be seen as somewhere between the Gothic and sweet styles; it is not as dark as Gothic Lolita, but not as cutesy as sweet Lolita. This look can be seen as the more sophisticated, mature Lolita style because of its use of small, intricate patterns, as well more muted colors on the fabric and in the overall design.
Designs containing a-lines, as well as Empire waists, are also used to add to the more mature look of the classic style. Most classic Lolita outfits, however, still stick to the basic Lolita silhouette. Shoes and accessories are less whimsical and more functional. Jewelry with intricate designs is also common. The makeup used in classic Lolita is often a more muted version of the sweet Lolita makeup, with an emphasis placed on natural coloring. Classical Lolita brands include Juliette et Justine, Innocent World, Victorian Maiden, Triple Fortune, and Mary Magdalene