As part of a date to cheer Shinobu Maehara up after she received some poor exam scores, Keitaro Urashima walks into this restaurant, not knowing that it was this high-class.
Attempting to act grown up like Naru, Shinobu was mortified when the restaurant served her a child meal. Accidentally drinking white wine instead of water, Shinobu becomes drunk and begins causing a scene as she attempts to interrogate Keitaro about his relationship with Naru.

Location Design
Edit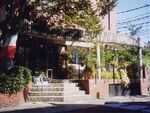 The restaurant is based on an Italian restaurant in what was formerly the French Quarter in Shibuya, Tokyo.

Ad blocker interference detected!
Wikia is a free-to-use site that makes money from advertising. We have a modified experience for viewers using ad blockers

Wikia is not accessible if you've made further modifications. Remove the custom ad blocker rule(s) and the page will load as expected.