"This is a strange place. Dreams and reality seem to blur together."
—Haruka Urashima
Hinata City (also referred to as a town) is a scenic town facing Sagami Bay in the Kanagawa prefecture of Japan and is most notable in the Love Hina series for being the location of the Hinata House where most of the stories' events occur.
Once a famous hot spring area, the town was popular from the late Taisho era to the beginning of the Showa era of Japan, however the town become left behind by the times following the Pacific War.
Notably due to this the town still features antique streetcars/trams and the rare three-wheeled car. The town is also known for its thick fog coverage.

Locations
Edit
Location Design
Edit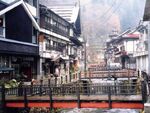 Hinata is based on images of the Ginzan Onsen in Obanazawa, Yamagata.
The square where Keitaro and Naru meet for their date is based on the square in front of Sakuragaoka station in Tama, Tokyo. The park where Naru and Keitaro took their Print Club photo during their date is based in Yamashita Park in Yokohama, Kanagawa. The pond Keitaro and Mutsumi boat across is based on Shinobazu Pond in Ueno Park, Tokyo, with the buildings in the background being based on buildings seen in Odori Park in Sapporo, Hokkaido.
The town is supposedly run by a group of elders who only appear in the anime version of the series.
In a competition set up by Kentaro Sakata, Naru Narusegawa won a Hinata Pop Star contest that was judged by the town's elders. This led to a temporary career as a Japanese pop idol.
It takes 1 1/2 hours to get to Tokyo University from Hinata.
Ad blocker interference detected!
Wikia is a free-to-use site that makes money from advertising. We have a modified experience for viewers using ad blockers

Wikia is not accessible if you've made further modifications. Remove the custom ad blocker rule(s) and the page will load as expected.