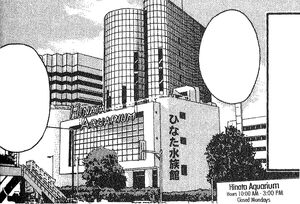 The Hinata Aquarium is a multi-story aquatic centre located in the city of Hinata.
After his failed attempt to take her on a date to Kanagawa Neverland, Keitaro managed to get Naru to go on a date with him around Hinata; visiting the cinemas, having dinner and exploring the aquarium.
While viewing the water tanks through viewing glass, Naru and Keitaro discovered a Hot Springs Turtle kept in preservation. Only to soon discover that the turtle was actually Tama, having being captured and handed into the aquarium.
Unfortunately the rest of their date was interrupted by Seta, who was giving an archaeology lecture at the aquarium, and his charge; Sarah.
Location Design
Edit
The Hinata Aquarium is based on the Children's Castle building in Shibuya-ku, Tokyo.

The aquarium is open from 10am to 3pm, closed on Mondays.
Ad blocker interference detected!
Wikia is a free-to-use site that makes money from advertising. We have a modified experience for viewers using ad blockers

Wikia is not accessible if you've made further modifications. Remove the custom ad blocker rule(s) and the page will load as expected.