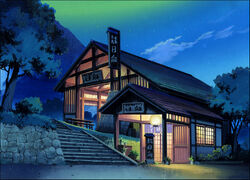 The Hinata Café is a small Japanese café and teahouse, located at the base of the same hill that the Hinata House resides on. Built opposite the rail car station, the café is directly linked to the apartments and is run by Haruka Urashima, who resides in the café.
In the manga, after her apartment complex burnt down, Mutsumi Otohime was allowed to also reside in the café, on the condition that she helped out in running the business. After her marriage to Noriyasu Seta, Haruka left the care of the café to Mitsune Konno and Mutsumi as she embarked on her honeymoon.

Location Design
Edit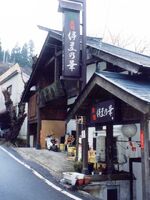 The Hinata Cafe is based on the "Flower of Izu" restaurant in Kanayama.

Concept Gallery
Edit
After Keitaro returned to the apartments, Kanako is shown to have moved into one of the Hinata Café's upper floor rooms. Sara also apparently stays here during her visits.
Ad blocker interference detected!
Wikia is a free-to-use site that makes money from advertising. We have a modified experience for viewers using ad blockers

Wikia is not accessible if you've made further modifications. Remove the custom ad blocker rule(s) and the page will load as expected.