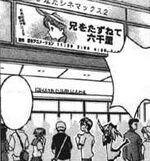 The Hinata Cineplex is a cineplex that Keitaro Urashima takes Naru Narusegawa to on their date. While initially Naru was sceptical over Keitaro's choice of watching a martial arts movie, she eventually discovered that she liked it very much; becoming lively enough to unintentionally begin beating down Keitaro during the movie.
While taking Kaolla on a date in an attempt to cheer her up, Keitaro takes her to see a movie at the cineplex about a brother and sister.

Ad blocker interference detected!
Wikia is a free-to-use site that makes money from advertising. We have a modified experience for viewers using ad blockers

Wikia is not accessible if you've made further modifications. Remove the custom ad blocker rule(s) and the page will load as expected.