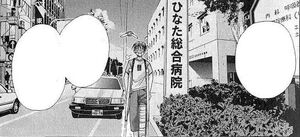 The Hinata General Hospital is the hospital where Keitaro was taken after suffering a fractured leg after nearly being crushed by the "giant onion" above the Tokyo University's inaguration hall.
Upset over having missed the ceremony and panicking that Naru might move on without him he blatantly admitted his love to her as she was about to leave after visiting him.

Location Design
Edit
The Hinata General Hospital is based on the Tokyo Wada hospital and the Tokyo Ekoda Hospital.
The bus stop near the hospital, where Keitaro catches Naru going on a trip to Kyoto with her classmates, is based on the sixth stop of the west exit bus station in Ikebukuro, Tokyo.

Ad blocker interference detected!
Wikia is a free-to-use site that makes money from advertising. We have a modified experience for viewers using ad blockers

Wikia is not accessible if you've made further modifications. Remove the custom ad blocker rule(s) and the page will load as expected.