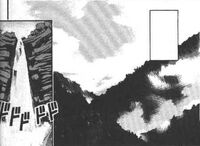 A mountainous area, the area behind Hinata is a forested region of hills and mountains. Motoko Aoyama retreats to train within these mountains after sensing that her skills were waning.
After finding a conveniently empty hut within the forests, Motoko spends her time practising her sword skills alone, however, she is interrupted by the arrival of the Motoko Rescue and Return Brigade who, inspite of initial appearances, help her improve her abilities enough that she agrees to return to Hinata soon afterwards.
Ad blocker interference detected!
Wikia is a free-to-use site that makes money from advertising. We have a modified experience for viewers using ad blockers

Wikia is not accessible if you've made further modifications. Remove the custom ad blocker rule(s) and the page will load as expected.