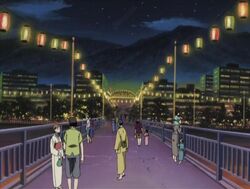 The Hinoshima Summer Festival is a festival held during the summer in Hinoshima.
As with most Japanese festivals held during this time of year, the Hinoshima festival is held outdoors and hosts various festival stalls and games, as well as fireworks after sunset. As with most summer festivals, festival goers traditionally wear summer Yukata while exploring the festival's various attractions.
Locations
Edit
Other Appearances
Edit
Negima! Magister Negi Magi
Edit
Main Article: Hinoshima Summer Festival (Negima)
In Negima! Magister Negi Magi, Negi Springfield and his students visit Hinoshima for a summer of beaches and festivals before he must return to England.
Ad blocker interference detected!
Wikia is a free-to-use site that makes money from advertising. We have a modified experience for viewers using ad blockers

Wikia is not accessible if you've made further modifications. Remove the custom ad blocker rule(s) and the page will load as expected.