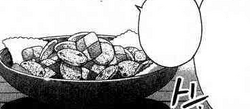 Homemade Cookies are part of a romantic trope usually found in high school dramas and romantic fiction involving youths.
The trope entails an individual spending time and effort into making a meal specifically for another individual, usually this individual is an individual they are fond of and want to impress with their cooking prowess.
The intention is to show that the individual can make a good domestic partner through their ability to provide the other individual with well prepared food.
The notion of the trope involving cookies centers around the Japanese school system featuring cooking classes. A student would use what they have learned from the class to make a bundle of cookies in an attempt to impress a crush.
On Valentine's Day, a girl might make their own chocolate to gift to an individual they admire.
Ad blocker interference detected!
Wikia is a free-to-use site that makes money from advertising. We have a modified experience for viewers using ad blockers

Wikia is not accessible if you've made further modifications. Remove the custom ad blocker rule(s) and the page will load as expected.