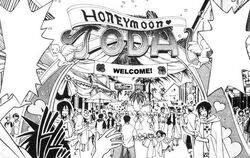 Based off of the legend of the Todai Ruins, Honeymoon Todai is a tourist trap for couples-in-love, located in the Kingdom of Molmol.
This "Bridal Mecca", known as the "Honeymoon Capital of the World", is a successful location for honeymooners and those wishing to get married, Todai receives a few hundred couples each year from Japan alone.
Haruka Urashima bought her wedding gown here while she, Seta, Keitaro and Naru wandered through the tourist trap on their way to the Todai Ruins.
Ad blocker interference detected!
Wikia is a free-to-use site that makes money from advertising. We have a modified experience for viewers using ad blockers

Wikia is not accessible if you've made further modifications. Remove the custom ad blocker rule(s) and the page will load as expected.