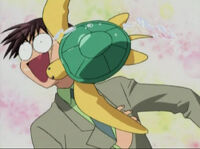 Hot Springs Turtles are a unique species of turtle that appears in Love Hina. The species is said to inhabit the nearby volcanic regions of Japan, swimming amongst the local hot springs (hence the name).
The species are uniquely intelligent, capable of understanding and responding to human speech and action as well as performing actions such as reading and writing.
At the beginning of their life cycle the turtles are small, though large in number. They possess flippers that are capable of both swimming and flight. When a Hot Spring Turtle grows older, it loses its ability to fly, its flippers turning into trunk-like legs, and becomes considerably larger as a full-grown adult.
Notable Members
Edit
Other Appearances
Edit
Ground Defense Force! Mao-chan
Edit
In Ground Defense Force! Mao-chan the alien spy, Chinami, dresses as a Hot Springs Turtle, which was the red team's mascot for the school sports festival, to convince Mao-chan that she was useless in the track and field race.

The "Queen" variation of the species is larger than the average adult and still possesses its flight flippers despite being adult.
The species has been the focus of an ancient "Turtle Civilization", the centre of which is thought to be located around Parakelese Island and the Kingdom of Molmol.
Kaolla Su created various robots designed around the appearance of Hot Springs Turtles.
Ad blocker interference detected!
Wikia is a free-to-use site that makes money from advertising. We have a modified experience for viewers using ad blockers

Wikia is not accessible if you've made further modifications. Remove the custom ad blocker rule(s) and the page will load as expected.