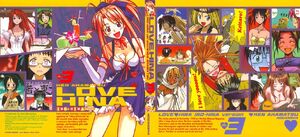 The Iro Hina Version (Colour Hina Version) Love Hina series is a colour version of the initial Love Hina manga series produced by Kodansha in Japan.
Following the success of the 14-volume tankōbon series by Kodansha in black and white, the Love Hina manga series was later re-released in a partially coloured format known as the "Iro Hina Version" at an increased price.

Ad blocker interference detected!
Wikia is a free-to-use site that makes money from advertising. We have a modified experience for viewers using ad blockers

Wikia is not accessible if you've made further modifications. Remove the custom ad blocker rule(s) and the page will load as expected.