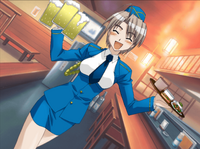 An Izakaya Restaurant is a restaurant/bar that mainly serves alcoholic drinks and small appetizer dishes that compliment them.
Similar to western taverns or pubs, Izakaya are popular after-work venues or social meeting areas.
"Izakaya" is a compound word consisting of "i" (to stay) and "sakaya" (sake shop), indicating that izakaya originated from sake shops that allowed customers to sit on the premises to drink
Izakaya are sometimes called akachōchin (red lantern) in daily conversation, due to restaurants traditionally possessing red paper lanterns at their entrances.
The legal drinking age in Japan is 20.
Ad blocker interference detected!
Wikia is a free-to-use site that makes money from advertising. We have a modified experience for viewers using ad blockers

Wikia is not accessible if you've made further modifications. Remove the custom ad blocker rule(s) and the page will load as expected.