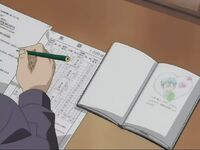 Keitaro's Diary is a dairy Keitaro Urashima keeps to record events in his life. Prominently featured in the anime, Keitaro tends to sketch accompanying pictures with his notations.
In the manga, while mentioned at various times, Keitaro is not shown with a dairy until HINATA 018. A Journey of Sorrow and Youth, where he starts a new journal while enroute to Kyoto, following his failure to get into Tokyo University once again.
Ad blocker interference detected!
Wikia is a free-to-use site that makes money from advertising. We have a modified experience for viewers using ad blockers

Wikia is not accessible if you've made further modifications. Remove the custom ad blocker rule(s) and the page will load as expected.