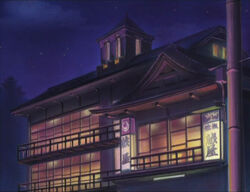 Located in the east-Higashima mountain area of Kyoto, Keitaro Urashima and Naru Narusegawa stayed at this Inn during their holiday through south-western Japan.
Following the travel guide that Mitsune frequently used in the Hinata House lobby, Keitaro and Naru inadvertently both booked to stay here inspite both of them trying to avoid the other.
The Inn contains lodging as well as Onsen facilities and recreation such as Table Tennis.
Location Design
Edit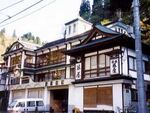 The Kyoto Hotel is based on a hot spring inn called Huziya Kanayama, in the Yamagata Prefecture. This hotel was notable for having a blond American woman as a proprietress.

Ad blocker interference detected!
Wikia is a free-to-use site that makes money from advertising. We have a modified experience for viewers using ad blockers

Wikia is not accessible if you've made further modifications. Remove the custom ad blocker rule(s) and the page will load as expected.