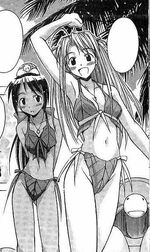 As a way to replace her ripped clothes, Naru Narusegawa wore a bikini made out of palm leaves, calling it a "Leaf Bikini", while she, Keitaro Urashima and Nyamo Namo were stranded in an oasis on Pararakelse Island.
Nyamo also wore a leaf bikini and Shinobu Maehara wore one after her clothes were ripped away by one of Motoko's attacks. Mitsune Konno and Mutsumi Otohime also made Motoko Aoyama wear one in an attempt to gain the attention of passing drivers for hitchhiking.
Ad blocker interference detected!
Wikia is a free-to-use site that makes money from advertising. We have a modified experience for viewers using ad blockers

Wikia is not accessible if you've made further modifications. Remove the custom ad blocker rule(s) and the page will load as expected.