Leon is a chameleon and the pet of Ema Maeda. Like it's owner, Leon only appears in the epilogue of the manga (vol 14). It is first seen on top of her bag as she arrives at Hinata Inn. Later it follows her around, beeing seen in the hot springs, greeting Tamago and sitting on Ema's head or shoulder. It's eyes are always drawn as spirals, possibily as a reference to the clumsiness of the owner.
Concept Gallery
Edit
Other Appearances
Edit
Negima! Magister Negi Magi
Edit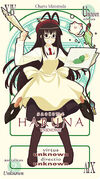 Leon makes various cameos throughout the Negima manga series and on various presentation art for the Negima manga and anime.
Ken Akamatsu explained in his notes that Tama, Kuro, Shippu and Leon were inspired by the "Four Legendary Animals of Japanese Mythology"; Tama was inspired by Genbu, Kuro by Byakko, Shippu by Suzaku, and Leon by Seiryuu.
Ad blocker interference detected!
Wikia is a free-to-use site that makes money from advertising. We have a modified experience for viewers using ad blockers

Wikia is not accessible if you've made further modifications. Remove the custom ad blocker rule(s) and the page will load as expected.