Ad blocker interference detected!
Wikia is a free-to-use site that makes money from advertising. We have a modified experience for viewers using ad blockers

Wikia is not accessible if you've made further modifications. Remove the custom ad blocker rule(s) and the page will load as expected.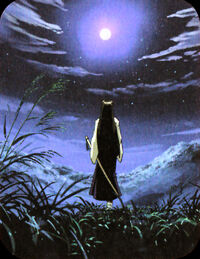 Like the Moon (月の如く Tsuki no Gotoku) is one of two vocal compilations associated with Motoko Aoyama and sung by seiyuu, Yuu Asakawa.
Written by Satomi Arimori and Hiroshi Uesugi, the song speaks about Motoko's sole wish to be a swordswoman and the nature of leading such a life.
The song goes for 3:58 minutes and was featured in the Hinata Girls Song Best compilation album.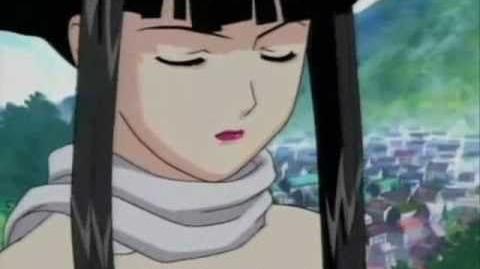 Original / Romaji Lyrics

Arashi, kakenukeru kouya wo fumishimete
kiyoki shinzan no chi de ware wo mitsumeru
subete uketomeru mi to kokoro motomete
kodoku, zetsubou mo mu no sekai e toujiru. . .

Zutto koushite ikite kita
akaki chishio nagare
motto sochi tsuyoki kenshi ni
nare yo to sakenda kotodama

Haru mo shiranu mama fuyu ni ikiru tamashii
akaneiro wo shita ware tsubomi saka sou

Kitto aoki tsuki no gotoku
awaku hikaru de arou
sotto tabibito terasu yo na
yasashiki ougi mo tsuyosa yo

Kedakaki ken wa toki ni tooku kanjiru
yureru kokoro, uchikesu yo ni

Zutto koushite ikite kita
akaki chishio nagare
motto sochi tsuyoki kenshi ni
nare yo to sakenda kotodama

Kitto aoki tsuki no gotoku
awaku hikaru de arou
sotto tabibito terasu yo na
yasashiki ougi mo tsuyosa yo

English Translation

I run through the storm stepping firmly on the wasteland
On the earth deep in the pure mountains I gaze at myself
I take in all that my body and heart want
I cast solitude and despair to the world of nothingness...

Always living in this way
Crimson blood flows
To become a stronger swordswoman
Is the cry of my soul

My soul that lives in winter fails to understand the spring
Into a madder red my flower bud has bloomed

I will always be like the pale moon
Shining faintly
Softly illuminating travellers
Whose tender mysteries are also strength

The sublime blade sometimes feels distant
As if to deny my wavering heart

Always living in this way
Crimson blood flows
To become a stronger swordswoman
Is the cry of my soul

I will always be like the pale moon
Shining faintly
Softly illuminating travellers
Whose tender mysteries are also strength