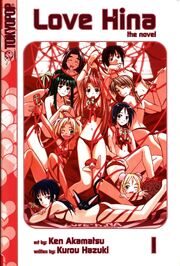 Love Hina: Mystery Guests at Hinata Hotel (ラブひな―混浴厳禁‐ひなた旅館へようこそ!) was written by Shō Aikawa, script writer of the Love Hina anime, under the pen name "Kurou Hazuki" with art and direction by Ken Akamatsu, this Love Hina novel is one of two novels created to work in conjunction with the Love Hina manga storyline.
Love Hina: Mystery Guests at Hinata Hotel was released in Japan by Kodansha in May 17, 2001, with an English/Japanese version released in December, 2001. The novel was later released in North America and the United Kingdom by Tokyopop in April 11, 2006 under the title "Love Hina: The Novel" Volume 1.
While still on vacation, Grandma Hina calls to inform Haruka of Keitaro's "treasured items" being hidden in the Annex, however, Mitsune intercepts the call and mishears the message. Thinking that there is treasure hidden in the apartments and that Keitaro knows where it is (or at least has the treasure map on his person) the Hinata girls start making various attempts to see Keitaro naked.
Told that he and the Hinata girls are to take care of a group of guests that will arrive at Hinata House with permission from Hina, Keitaro gets a lesson in how to run an Inn for a group of people who used to stay at the Hinata Inn years previously.
However, all is not what they seem; for some of these customers are here for more than just nostalgic reasons.
The writer makes various comments through the book that intentionally break the fourth wall.
Despite their inclusion on the cover, Mutsumi Otohime and Kanako Urashima do not appear in the book.
Included in the book are thumbnails of drawings from the Love Hina manga of various characters in various stages of production.
Ad blocker interference detected!
Wikia is a free-to-use site that makes money from advertising. We have a modified experience for viewers using ad blockers

Wikia is not accessible if you've made further modifications. Remove the custom ad blocker rule(s) and the page will load as expected.