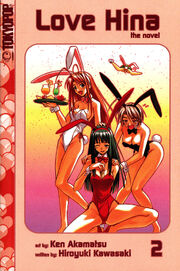 Love Hina: Secrets at Hinata Hotel (ラブひな―混浴厳禁 ひなた荘のヒミツ) was written by Hiroyuki Kawasaki with art and direction by Ken Akamatsu, this Love Hina novel is one of two novels created to work in conjunction with the Love Hina manga storyline.
Love Hina: Secrets at Hinata Hotel was released in Japan by Kodansha in February 15, 2002, with an English/Japanese version released the same month. The novel was later released in North America and the United Kingdom by Tokyopop in August 8, 2006 under the title "Love Hina: The Novel" Volume 2.
Part 1: Mechanical Pervert
Edit
With Naru suffering bouts of eccentricity due to Keitaro's absence, Kaolla and Sarah decide to create a robotic version of him but when a glitch occurs in the robot's diagnostics the Hinata crew must work out a way to stop the robot before it destroys the entire city.
Part 2: Holiday Night for the Studying Knight
Edit
Torn over her trouble with studying for the Tokyo University exam, Motoko's troubles become worse when, during a demonstration of the Shinmei-ryu secret technique Living Souls Exchange, her soul is switched with Kitsune's. Now the pair must find a way to switch back before midnight or they will be trapped in each other's bodies forever; all the while without telling Motoko's demonic sister, Tsuruko.
While Tsuruko's pet crane is named Shippu in the manga, in this novel it is named Hayate. It is unclear whether this is the yellow crane (Shippu) or the as-of-yet-unnamed red/purple one that she is also occasionally seen with.
Included in the book is a flip-animation of Keitaro chasing after Tama who stole his glasses.
Ad blocker interference detected!
Wikia is a free-to-use site that makes money from advertising. We have a modified experience for viewers using ad blockers

Wikia is not accessible if you've made further modifications. Remove the custom ad blocker rule(s) and the page will load as expected.