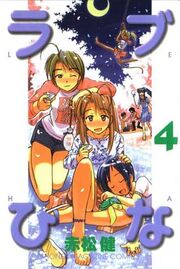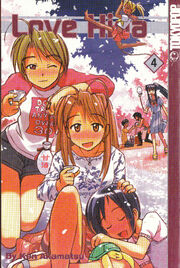 Love Hina volume 4 is the fourth of fourteen manga volumes that make up the Love Hina manga series. Containing nine chapters, this volume covers Keitaro's decision to reattempt the Tokyo University entrance exam yet again and the introduction of Noriyasu Seta.
Originally serialized in Weekly Shōnen Magazine, these chapters were collected and published in 14 tankōbon volumes by Kodansha. The series was later released again in a partially colored format known as the "Iro Hina version" ("Color Hina version") at an increased price.
The series was licensed for an English language release in North America and the United Kingdom by Tokyopop, which released the 14 volumes between May 7, 2002 and September 16, 2003. The series was also licensed for an English language release in Singapore by Chuang Yi and for regional language releases in France and Québec by Pika Édition, in Spain by Glénat, in Singapore by Chuang Yi, in Brazil by Editora JBC, in Mexico by Grupo Editorial Vid, in Poland by Waneko, in Greece by Compupress, in Germany in German, and in Sweden and Norway by Egmont Manga & Anime.
The poster in Mitsune's room on page 32 alludes to the slogan "''See You Next Time, Cowboy''" from the anime series Cowboy Bebop.
Some of the toys in the background of page 77 are models of various popular vehicles and characters, such as Thunderbird 2 (from the Thunderbirds television series), the U.S.S Enterprise (from the Star Trek franchise) and a Cactuar (from the Final Fantasy videogame series)
Kotaro Sawaki, mentioned on page 133,
In the Love Hina Character Popularity Poll, the female Tokyo U Student that appears on page 147 ranked 15th in popularity alongside Magii with 5 out of 2506 votes.
Kamen Rider (Masked Rider), mentioned on page 157,
Indiana Jones, mentioned on page 176, is a popular movie franchise about an archaeologist (played by Harrison Ford) who becomes involved in various adventures while travelling the world in pursuit of some of the most famous and historical artefacts in the world.
Included in the Kodansha manga release were four pages of production designs on the Hinata girls. On page 42, a background page was featured on Tama and how the turtle got its name.
Ad blocker interference detected!
Wikia is a free-to-use site that makes money from advertising. We have a modified experience for viewers using ad blockers

Wikia is not accessible if you've made further modifications. Remove the custom ad blocker rule(s) and the page will load as expected.