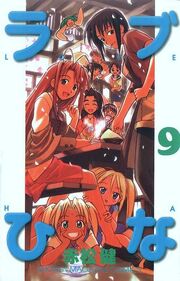 Love Hina volume 9 is the ninth of fourteen manga volumes that make up the Love Hina manga series. Containing nine chapters, this volume covers Keitaro's final Tokyo University entrance exams.
Originally serialized in Weekly Shōnen Magazine, these chapters were collected and published in 14 tankōbon volumes by Kodansha. The series was later released again in a partially colored format known as the "Iro Hina version" ("Color Hina version") at an increased price.
The series was licensed for an English language release in North America and the United Kingdom by Tokyopop, which released the 14 volumes between May 7, 2002 and September 16, 2003. The series was also licensed for an English language release in Singapore by Chuang Yi and for regional language releases in France and Québec by Pika Édition, in Spain by Glénat, in Singapore by Chuang Yi, in Brazil by Editora JBC, in Mexico by Grupo Editorial Vid, in Poland by Waneko, in Greece by Compupress, in Germany in German, and in Sweden and Norway by Egmont Manga & Anime.
Ma-kun from A.I. Love You appears on the title page of HINATA. 71 Yes or No or?.
Ad blocker interference detected!
Wikia is a free-to-use site that makes money from advertising. We have a modified experience for viewers using ad blockers

Wikia is not accessible if you've made further modifications. Remove the custom ad blocker rule(s) and the page will load as expected.