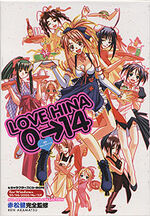 Love Hina 0-14 CDROM is a Love Hina-themed multimedia pack for the Windows PC.
Released on March 15, 2003, the pack features an illustration gallery with 100 high quality images and outline sketches with comment notes from Ken Akamatsu. The pack also contains a manga chapter guide, a Love Hina dictionary with 8000 defnitions used in the manga series, character data, a gallery of Love Hina merchandise available to buy, a collection of the author images found at the end of each manga volume as well as two chapters of a manga with sketches in addition to additional wallpaper images and desktop mascots.

The pack also contains a bonus limited edition Love Hina wrist strap.
Ad blocker interference detected!
Wikia is a free-to-use site that makes money from advertising. We have a modified experience for viewers using ad blockers

Wikia is not accessible if you've made further modifications. Remove the custom ad blocker rule(s) and the page will load as expected.