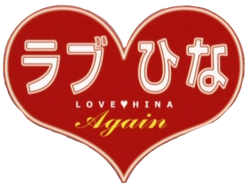 Love Hina Again (ラブひな Again Rabu Hina Agēn) is a series of three OVA (Original Video Animation, eg. not aired on TV) episodes following the original anime series. While the series featured a new production team from those who worked on the original Love Hina anime, they retained the original seiyuu cast and still received input from Ken Akamatsu.
Released in Japan in early 2002, the OVA was released on three seperated DVDs ("Kanako" (可奈子), "Keitarō" (景太郎), "Naru" (なる)) with the first released in January 26, the second in February 28 and the third in March 27. The North American and United Kingdom releases of Love Hina Again grouped the 3-parts together on one disc and were released on September 2, 2003 and January 7, 2008 respectively.
Love Hina Again: Kanako
Edit
Keitaro passes the Tokyo University entrance exam, however in his enthusiasm he becomes involved in an accident during the entrance ceremony and breaks his leg.
Unable to attend the first semester due to his leg, Keitaro opts to go with Seta on one of his Archaeology digs in America.
A month after Keitaro's departure, a new tenant arrives at the dormitory while Naru tortures herself over why she couldn't allow herself to say that she loved Keitaro. The new tenant begins impersonating Naru in order to investigate the dormitory residence, assailing and antagonising them in the process, eventually revealing herself to be Keitaro's little sister, Kanako Urashima.
As Kanako takes over the dormitory as landlord, her strict behaviour causes the residents to rebel against her and attempt to infiltrate the Abandoned Annex. As Kanako unleashes an army of Mini-Tama against them and Naru attempts to keep the peace between the two factions, Keitaro abruptly arrives in Seta's Van.
Love Hina Again: Keitaro
Edit
Having returned from America, Keitaro Urashima reacquaints himself with the Hinata House and reunites with Kanako who attempts to remind him of his promise to be with her. Meanwhile, Naru frets over her feelings for Keitaro and Kanako's infatuation with him.
While Kanako initially loses her nerve, Kanako realises she can't give up on Keitaro and outright competes for his affections against Naru as his Promise Girl. Managing to get the other residents away, Kanako attempts to seduce her step-brother but is constantly thwarted by Naru who repetitively claims that there was no relationship between herself and Keitaro.
In response Kanako attempts to take advantage of their obvious relationship and has Mutsumi impersonate Keitaro while she impersonates Naru in an attempt to get the two to confess their feelings for each other only to discover that Keitaro had completely forgotten his promise for her.
Intending to further his relationship with Naru by proposing to her in the Abandoned Annex, Keitaro delivers an invitation to meet her, however, Naru passes the invitation to Kanako; unaware of Keitaro's intentions and thinking that it would be better if he and Kanako spent some time together.
After learning of the power of the Annex, Naru realises her mistake and attempts to stop Keitaro and Kanako from meeting but she is too late and Keitaro, thinking she was Naru, gives Kanako his engagement ring and the two are joined by the Annex's magic.
Love Hina Again: Naru
Edit
In their dreams, Moe arrives and helps Keitaro to remember his promise to Kanako.
With Keitaro and Kanako magically joined together as a couple due to the magic of the Abandoned Annex, Naru attempts to interupt Kanako's coupling activities but is constantly thwarted by the Annex's magic.
Discovering that the ring, which she had lost, was at the Annex, Naru attempts to enter the Annex but is deterred. She is than confronted by the entire Hinata residency to confess her true feelings for Keitaro but rather then confess she runs away.
Meanwhile, frustrated by her brother's love for Naru, Kanako attempts to impersonate Kentaro and personally confronts Naru over her indecision. Defeating Naru, Kanako then impersonates her and is chased by Keitaro, however, when Keitaro catches up to her he reveals he knew she was Kanako and apologizes.
However, while the pair had come to terms with their relationship as brother and sister, the Annex's magic forces Keitaro and Kanako within its walls and has the other Hinata residents act as gate keepers against Naru's intrusion; confronting her on her indecision and lack of conviction but Naru faces them and is allowed to pass by each resident. When Naru and Keitaro are left, Naru manages to gain possession of the ring as the Annex's magic causes the building to fall apart and Keitaro falls while trying to catch it. As Naru jumps after him, the building is destroyed but the pair survive the fall safely. Naru breaks down and shamelessly announces her love for Keitaro.
The opening theme for the OVA was Kirari Takaramono (キラリ☆宝物, "Glittering Treasure"), written by Itou Chika, Goshima Shou and sung by Yui Horie). The ending theme was Be for You, Be for Me which was also written by Itou Chika, Goshima Shou. A CD single featuring the two songs was released on February 28, 2002.
The OVA was originally supposed to be filler between the first season and the planned second season, but the second season was cancelled and the OVA thus left with an ending completely different from the original manga.
The OVA is roughly based on the manga starting with Chapter 89 with the Kanako Arc, and continuing up until just before the start of the Molmol Arc.
In Love Hina Again: Kanako, Keitaro makes reference to events that occured in the Love Hina Spring Special: I Wish Your Dream and Love Hina X-mas Special: Silent Eve OVAs. Shinobu also makes reference to the ending of the Spring Special in the same episode.
Love Hina Again: Keitaro is the first time the Naru Punch is refered to by name, by Keitaro no less.
Ad blocker interference detected!
Wikia is a free-to-use site that makes money from advertising. We have a modified experience for viewers using ad blockers

Wikia is not accessible if you've made further modifications. Remove the custom ad blocker rule(s) and the page will load as expected.