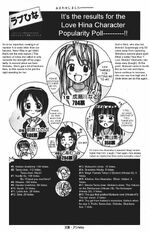 The Love Hina Popularity Poll was a popularity contest conducted by Weekly Shōnen Magazine, inciting the readers of the Love Hina manga to submit their votes for whichever character they favoured, with the character possessing the highest amount of votes by the end of the submission period becoming the winner.
The results of the poll are featured after Chapter 58 in Volume 7 of the Love Hina manga.

Contestants
Edit
The contest received a total of 2506 submitted votes.
By the end of the series, a final popularity poll for the female characters was held and released in Love Hina Mugendai, the results of which were as follows:
Ad blocker interference detected!
Wikia is a free-to-use site that makes money from advertising. We have a modified experience for viewers using ad blockers

Wikia is not accessible if you've made further modifications. Remove the custom ad blocker rule(s) and the page will load as expected.