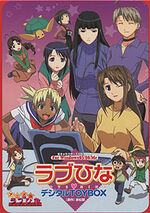 Love Hina Digital Toybox is a Love Hina-themed multimedia pack for the Windows PC.
Released on April 26, 2001, the pack features an interactive tour of Hinata Inn where the player can collect trading card packs to exchange for bonus scenery, cel scans, special artworks and screenshots from the anime series.
In addition the pack also contains an episode guide, character guide and a host of Love Hina-themed multimedia programs such as screensavers, an application launcher, paint program, letter writing application (includes Love Hina "stationery"),Shinobu's desktop cleaning program and Love Hina mascots (Sarah, Naru, Shinobu, Kitsune, and Su).

The pack contains a bonus limited edition Love Hina trading card.
Ad blocker interference detected!
Wikia is a free-to-use site that makes money from advertising. We have a modified experience for viewers using ad blockers

Wikia is not accessible if you've made further modifications. Remove the custom ad blocker rule(s) and the page will load as expected.