"Ohmigod! If I don't clean up this article soon, they're gonna kill me!!!"

This article can be improved in areas such as grammar, style, wiki-formatting and even spelling.
An Otaku Pilgrimage is the act of performing a physical pilgrimage to various locations around Japan that appear in manga or anime.
The pilgrimage, or Seichi Junrei (聖地巡礼, Holy Pilgrimage), is common endeavor made by a fan, who will pinpoint real-world locations they find in manga and proceed to make a pilgrimage to all of the places that they were able to find. Sometimes the fan will dress up as the character depicted in said manga. This behavior is similar to people who dress as Kobo Daishi and travel the 88 temples.
Love Hina Pilgrimage Locations
Edit
Tokyo University
Hinoshima
Love Hina Travel Pilgrimages
Edit
Southern Japan/Kyoto Arc Pilgrimage
Edit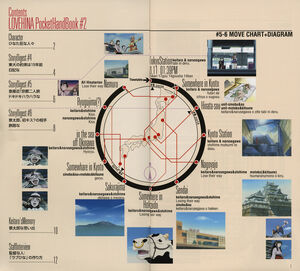 Keitaro/Naru
Shinobu/Kaolla
Motoko/Mitsune

(via Old Tokyo-Kyoto road)
Odawara
Hamanako
Northern Japan/Kanako Arc Pilgrimage
Edit
The definition of an otaku is essentially a person who is deeply involved in his/her hobby, whatever that may be, to the extent of becoming removed from mainstream society.
Companies like US-based Pop Japan Travel offer commercialized tours of anime and manga locations.
This form of pilgrimage is known as Seichi Junrei (聖地巡礼, Holy Pilgrimage) and is a way for otaku to feel connected with their beloved characters.
Ad blocker interference detected!
Wikia is a free-to-use site that makes money from advertising. We have a modified experience for viewers using ad blockers

Wikia is not accessible if you've made further modifications. Remove the custom ad blocker rule(s) and the page will load as expected.