Love Live Hina is the name of three live concerts held at the Osaka Bay on the 6th of November, 2000, at Tokyo Bay's NK Hotel on March 24th, 2001, and at the ON AIR exhibition center (now known as O'East) in Shibuya on the 8th of October, 2001. Music videos were later released for each concert.
Directed by Tetsu Nakamura, Yoshikazu Okada and Shinsuke Tamura and hosted by Star Records, the concerts featured the voice actors of the Love Hina anime series (Satsuki Yukino (Mutsumi Otohime), Masayo Kurata (Shinobu Maehara), Yu Asakawa (Motoko Aoyama), Yui Horie (Naru Narusegawa), Junko Noda (Mitsune Konno), Reiko Takagi (Kaolla Su) and Yuji Ueda (Keitaro Urashima)) singing various vocal tracks from the series and OVA movies.
The Osaka concert also featured Megumi Hayashibara (Haruka Urashima) while the Tokyo ON AIR concert also featured a guest appearance by Ken Akamatsu.
Osaka Concert
Edit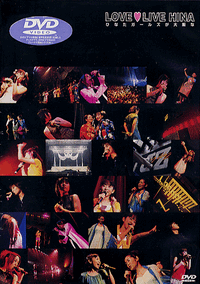 1. Sakura Saku (Hinata Girls)
2. Medley (Hinata Girls)
3. Kamune Iro no Natsu (Horie Yui)
4. Densetsu no Onsen Game (Yukino Satsuki)
5. Heart ha Wow Wow (Takagi Reiko)
6. Sweet Blue Days (Asakawa Yuu, Kurata Masayo)
7. Kimi Sae Ireba (Hayashibara Megumi)
8. Kasa ga Nainoyo (Noda Junko)
9. Yakusoku (Horie Yui)
10. Nante Sutekina (Yukino Satsuki)
11. Shinobu no Touban Nikki (Kurata Masayo)
12. Shinken (Asakawa Yuu)
13. Happy Happy Rice Shower (Horie Yui)
14. Sakura Saku (Hayashibara Megumi)
15. [encore] Ii Yu Dana

Tokyo NK Hall Concert
Edit
1. Sakura Saku/intro
2. Haru de Mono!
3. Dame Dame!!
4. Heart Wa Wow Wow
5. Tsuki no Gotoku
6. Kasa ga Nai no yo
7. Smile for you
8. Nante Suteki na
9. Egao no Mirai E
10. Kimi Sae Ireba
11. Hajimari wa Kokokara
12. Ii yu Dana
13. Yakusoku
14. Shinken
15. La Moon nakibunde
16. Densetsu no Onsen Game
17. Shinobu no Touban Nisshi
18. Baribari Otenba
19. Mainichi ga Otenki
20. Mirai e no Okurimono (Encore)
21. Friendship (credits)
22. Shukufuku

The concerts started at 6:30pm, with a maximum of two tickets sold per person at a price of 2,100 yen per ticket.
The Osaka concert DVD also features cast interviews.
The Tokyo Bay concert was featured as part of the Love Hina Final Selection compilation.
Ad blocker interference detected!
Wikia is a free-to-use site that makes money from advertising. We have a modified experience for viewers using ad blockers

Wikia is not accessible if you've made further modifications. Remove the custom ad blocker rule(s) and the page will load as expected.