Miracle Maid Motoko
Talk

0
571pages on
this wiki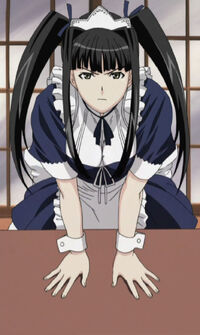 Miracle Maid Motoko is a persona Motoko Aoyama adopts following being defeated and disowned by her sister, Tsuruko Aoyama.
Acquiring a maid uniform from Mitsune's closet, Motoko took to performing the domestic tasks of the Hinata House; cooking, cleaning, taking care of the tenants and housing maintenance.
Motoko's tenacity, however, did not go over too well with the apartment residents and Motoko abandoned the persona after overhearing how badly her attempts were being received.
Other Appearances
Edit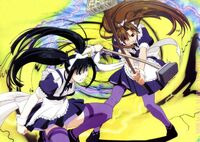 A series of non-canon adventures featuring Miracle Maid Motoko was made for a magazine appearance.

Mahou Sensei Negima!
Edit
Setsuna Sakurazaki, from Negima! Magister Negi Magi, would also don a Japanese-style maid outfit and wield a banister brush during her martial art match against Asuna Kagurazaka in the Mahora Festival Martial Art Tournament.
In the manga it is stated that Motoko had gotten her maid uniform from Mitsune's wardrobe, however, in the anime it is stated that she got it from Haruka's wardrobe.