Miracle Maid Motoko is a persona Motoko Aoyama adopts following being defeated and disowned by her sister, Tsuruko Aoyama.
Acquiring a French Maid Uniform from Mitsune's closet, Motoko took to performing the domestic tasks of the Hinata House; cooking, cleaning, taking care of the tenants and housing maintenance.
Motoko's tenacity, however, did not go over too well with the apartment residents and Motoko abandoned the persona after overhearing how badly her attempts were being received.
Other Appearances
Edit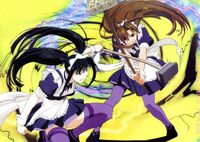 A series of non-canon adventures featuring Miracle Maid Motoko was made for a magazine appearance. The story was later reprinted for the Ani Hina Art Collection artbook.

In the manga it is stated that Motoko had gotten her maid uniform from Mitsune's wardrobe, however, in the anime it is stated that she got it from Haruka's wardrobe.
During this character arc in the manga, Keitaro was injured during his first visit to Toudai, and is sporting crutches and a cast on his leg. In the anime, he is healthy.
Ad blocker interference detected!
Wikia is a free-to-use site that makes money from advertising. We have a modified experience for viewers using ad blockers

Wikia is not accessible if you've made further modifications. Remove the custom ad blocker rule(s) and the page will load as expected.