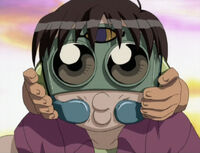 A headset version of Mr Cherry, it controls the wearer so that they have to kiss the first person they see.
Su forces it onto Keitaro, forcing him to aggressively attempt to kiss Shinobu.
Ad blocker interference detected!
Wikia is a free-to-use site that makes money from advertising. We have a modified experience for viewers using ad blockers

Wikia is not accessible if you've made further modifications. Remove the custom ad blocker rule(s) and the page will load as expected.