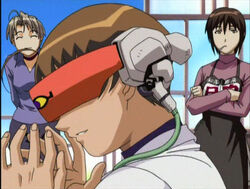 Mr Virtual is a headset that, by connecting to the wearer's brain waves, can broadcast what's going on in their head. Su uses it to view people's dreams on television by putting the machine on them while they sleep.
Keitaro and Kentaro also use it to decide who would make a better date for Naru by performing a mock simulation in an imaginary Kanagawa Neverland using the headset
Ad blocker interference detected!
Wikia is a free-to-use site that makes money from advertising. We have a modified experience for viewers using ad blockers

Wikia is not accessible if you've made further modifications. Remove the custom ad blocker rule(s) and the page will load as expected.