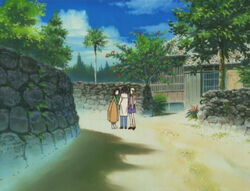 Mutsumi's Hometown is located on a small island just off the west coast of Okinawa.
An estranged community accessible by boat, the town has water buffalo cart tours for tourists as well as various vacation spots.
Locations
Edit
Location Design
Edit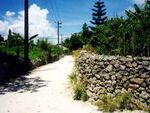 Mutsumi's hometown is based on the appearance of Taketomi village on the island of Taketomi. The area has been designated a conservation district; containing numerous traditional buildings of national importance.
The water buffalo carts are a famous tourist attraction in Taketomi, offering 40 minute rides through the village. Water buffalo carts also provide shuttle service between Iriomote Island, Yaeyama Island and Yubu Island as the water between the islands draws back enough at low tide to allow access.
The lighthouse where Naru, Mutsumi and Keitaro picnic near is based on the northernmost lighthouse on Yaeyama Ishigaki Island. The area is a cape farm with cows and horses grazing.
The location of Mutsumi's hometown is where Kuef Island is located in the real world.
Ad blocker interference detected!
Wikia is a free-to-use site that makes money from advertising. We have a modified experience for viewers using ad blockers

Wikia is not accessible if you've made further modifications. Remove the custom ad blocker rule(s) and the page will load as expected.