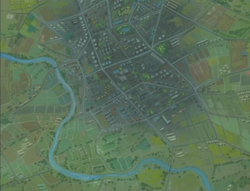 Nagoya (名古屋市 Nagoya-shi) is the third-largest incorporated city and the fourth most populous urban area in Japan.
Nagoya's two most famous sightseeing spots are Nagoya Castle and Atsuta Shrine.
Nagoya Castle was built in 1612. Although a large part of it burned down in the fires of World War II, the castle was restored in 1959. The castle is famous for possessing two Golden Orca statues on the roof, often used as the symbol of Nagoya.

The castle grounds as shown in the Love Hina anime is in no way similar to the layout of the actual location.
Samurai exhibitions are often held on the castle grounds of Nagoya castle.
External Links
Edit
Ad blocker interference detected!
Wikia is a free-to-use site that makes money from advertising. We have a modified experience for viewers using ad blockers

Wikia is not accessible if you've made further modifications. Remove the custom ad blocker rule(s) and the page will load as expected.