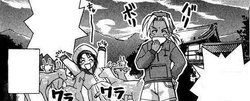 Nara (奈良市 Nara-shi) is the capital city of Nara Prefecture in the Kansai region of Japan and was once the capital of Japan from 710 to 784 until the reigning Emperor deemed the surrounding temples and priests too powerful and sought to separate religion and politics by moving the capital to what would become Kyoto in 784.
The once-capital is now known for both its history and for its ancient temples, shrines and ruins.
According to the legendary history of the Kasuga Shrine, the mythological god Takemikazuchi arrived in Nara on a white deer to guard the newly built capital of Heijō-kyō. Since then the deer have been regarded as heavenly animals, protecting the city and the country. Tame Sika Deer roam through the town, especially in Nara Park. Snack vendors sell "shika sembei" (deer biscuits) to visitors so they can feed the deer.
External Links
Edit
Ad blocker interference detected!
Wikia is a free-to-use site that makes money from advertising. We have a modified experience for viewers using ad blockers

Wikia is not accessible if you've made further modifications. Remove the custom ad blocker rule(s) and the page will load as expected.