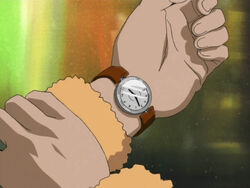 Naru's Watch was an analogue watch given to Naru Narusegawa by Keitaro Urashima as a present during the first Christmas that he spent with the Hinata Residents.
While playing with Tama, Naru put her watch on the turtle and had to chase him through the Hinata House complex to get her watch back after he got scared by Kaolla Su.

Ad blocker interference detected!
Wikia is a free-to-use site that makes money from advertising. We have a modified experience for viewers using ad blockers

Wikia is not accessible if you've made further modifications. Remove the custom ad blocker rule(s) and the page will load as expected.