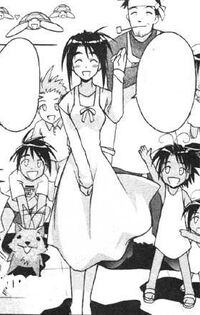 Natsumi Otohime is the mother of Mutsumi Otohime. Living on an island near Okinawa, she runs a sea-side residence on the island while raising her remaining seven children.
In a lot of ways she and her daughter, Mutsumi, are exact duplicates of one another; both seem slightly air-headed yet mischievously capable and prone to injury. When the Hinata House was still an Inn, Natsumi worked at the lodge for Hina Urashima, the then current landlord. She would bring Mutsumi with her, usually working while Mutsumi played with the other children; Naru Narusegawa and Keitaro Urashima.

Ad blocker interference detected!
Wikia is a free-to-use site that makes money from advertising. We have a modified experience for viewers using ad blockers

Wikia is not accessible if you've made further modifications. Remove the custom ad blocker rule(s) and the page will load as expected.