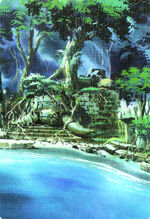 The Pararakelse Oasis is a tropical oasis located within the Pararakelse Desert on the island of Pararakelse.
Initially separated, the Hinata crew reunited with each other within the oasis and together endeavoured to return to Japan. The oasis is also the location of an ancient Turtle Civilization temple that Nyamo Namo's grandfather and Noriyasu Seta were searching for at various periods in time.

Ad blocker interference detected!
Wikia is a free-to-use site that makes money from advertising. We have a modified experience for viewers using ad blockers

Wikia is not accessible if you've made further modifications. Remove the custom ad blocker rule(s) and the page will load as expected.