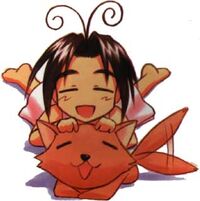 Pochi is the Otohime Family's pet dog, residing in Okinawa.
A small canine that first appears in Chapter 80, Pochi is usually seen with the Otohime children, causing mischief. It later appears in the wedding of Naru and Keitaro in Epilogue 2.
"Pochi" is a common dog name in Japan, similar to "Spot" or "Rover" in western countries.
The appearance of another Otohime Family canine, named Rover in the Tokyopop translation in Chapter 23, may actually be Pochi.
Ad blocker interference detected!
Wikia is a free-to-use site that makes money from advertising. We have a modified experience for viewers using ad blockers

Wikia is not accessible if you've made further modifications. Remove the custom ad blocker rule(s) and the page will load as expected.