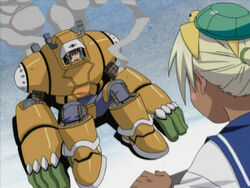 In an attempt to convince Keitaro to continue chasing his dreams, Su has forced Kentaro to wear a mechanical suit, and they march him to Mutsumi's apartment (where Keitaro was staying) in an attempt to beat some sense into him.
The suit, however, was too heavy for Kentaro and he collapsed under its weight moments after arriving at Mutsumi's apartment.
Ad blocker interference detected!
Wikia is a free-to-use site that makes money from advertising. We have a modified experience for viewers using ad blockers

Wikia is not accessible if you've made further modifications. Remove the custom ad blocker rule(s) and the page will load as expected.