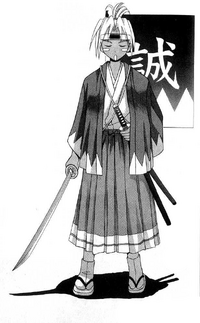 Samurai (侍) were the military nobility of pre-industrial Japan and became known as the country's elite warriors in the battlefield.
By the end of the 12th century, Samurai became almost entirely synonymous with Bushi (Japanese warriors), and the word was closely associated with the middle and upper echelons of the warrior class. The samurai followed a set of rules that came to be known as Bushidō. While they numbered less than 10% of Japan's population, samurai teachings can still be found today in both everyday life and in modern Japanese martial arts.
As de facto aristocrats for centuries, samurai developed their own culture that melded with their warrior lifestyles. The Tea Ceremony, Monochrome ink painting, Rock gardens and Poetry were some of the cultural endevours adopted by warrior patrons.

According to translator William Scott Wilson: "In Chinese, the character 侍 was originally a verb meaning to wait upon or accompany persons in the upper ranks of society, and this is also true of the original term in Japanese, saburau. In both countries the terms were nominalized to mean "those who serve in close attendance to the nobility," the pronunciation in Japanese changing to saburai."
A common trope/stereotype in Japanese culture is the "Kendo Girl"; a girl who practises the art of Kendo, however, sometimes this trope extends to girls who are practising samurai. As Motoko falls between the two classifications of practising kendo and being a practising samurai, she is dubbed as a "Kendo Girl" and is initially nicknamed "Kendo" by Keitaro before he learned her name.
Ad blocker interference detected!
Wikia is a free-to-use site that makes money from advertising. We have a modified experience for viewers using ad blockers

Wikia is not accessible if you've made further modifications. Remove the custom ad blocker rule(s) and the page will load as expected.