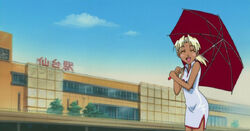 Sendai (仙台市, Sendai-shi) is the capital city of Miyagi Prefecture, Japan, and the largest city in the Tōhoku Region. The city has a population of one million and is one of Japan's 19 designated cities. The city was founded in 1600 by the daimyo Date Masamune, and is well known by its nickname, the City of Trees (杜の都, Mori no Miyako?). There are about 60 zelkova trees on Jōzenji Street (定禅寺通, Jōzenji dōri?) and Aoba Street (青葉通, Aoba dōri?).
In Summer, Sendai Tanabata Festival, the largest Tanabata Festival in Japan, is held. In winter, the trees are decorated with thousands of lights in an event called the Pageant of Starlight (光のページェント) through most of December. Many people visit Sendai to see these events.
Ad blocker interference detected!
Wikia is a free-to-use site that makes money from advertising. We have a modified experience for viewers using ad blockers

Wikia is not accessible if you've made further modifications. Remove the custom ad blocker rule(s) and the page will load as expected.