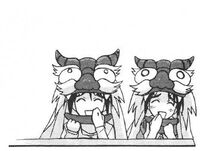 "Don't mind us. We're just your Friendly Neighbourhood Shiisaa Gaurdians."
A Shiisaa Gaurdian is a legendary creature that is part-lion/part-dog, culturally adopted from mainland China's lion guardians. Said to ward off evil and calamity, Okinawa is famous for possessing these statues around the island.

Ad blocker interference detected!
Wikia is a free-to-use site that makes money from advertising. We have a modified experience for viewers using ad blockers

Wikia is not accessible if you've made further modifications. Remove the custom ad blocker rule(s) and the page will load as expected.